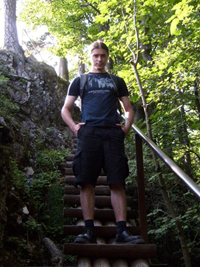 I am Kamil Haczmerian, known also as KAM_, Kamson or Kamsonowicz.

This site was made to show you my work as a musician working on computer demoscene. Platform I've been devoted to was my beloved Amiga. My interest in demoscene started somewhere in mid-nineties, it was before I bought my Amiga 1200. At the beginning I was working with ProTracker, but I switched almost instantly to DIGI Booster 1.7. After playing for pretty long time with this application I decided to move to DIGI Booster Pro which was and still is the best tracker written for AmigaOS. In similar time I fell in love with chiptunes and another fantastic app came into my hands – AHX Sound System. Those two pieces of software became my weapons of mass sonic destruction. :) Some time later I bought an iMac G3 and discovered Renoise, which probably is the best tracker on earth. Then there was eMac G4 and finally I had to buy Windows-based notebook. So today if I want to compose something I stick to Renoise and AHX Sound System under WinUAE (and sometimes on my Amiga 1200), I'm launching Milky Tracker from time to time too.
During my scene "career" I was in just one demoscene group. It was Danish group Iris and I've been with them for few nice years.

Projects where you can find some of my work:
demoscene

Mac OS X


Early polish localization for Cyberduck - FTP client
Polish localization for SimplyBurns - CD/DVD burning app
Polish localization for iTaf - alarm clock working with iTunes
Today my main hobbies are: video games and consoles (I've got PS3, Xbox 360, PS2, Xbox and PSP), as well as Formula 1 racing series. Check out my music and enjoy!
Some additional info about me...